2010: A Year In Dinosaurs
13 November, 2009
It's that time of year again – the world gets a bit silly as we enter American Thanksgiving and then the great countdown begins until Christmas. Before we know it, it's going to be 2010. I know many of you out there take this time of year, as I do, to begin the Great Calendar Search. I take my calendars very seriously -it's something I'm going to have to look at year-round. An especially great calendar will have images I love so much that after the year is over, I take some of the pages out and frame them.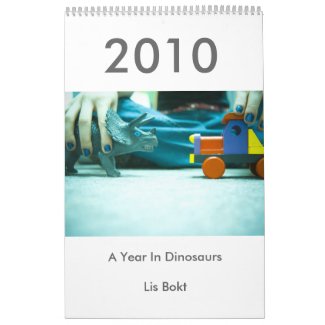 2010: A Year In Dinosaurs
by
tyskkvinna
Get a
2009 calendar
from zazzle
I am extremely pleased to present my calendar for the upcoming year. 2010: A Year In Dinosaurs is a very whimsical, quirky, upbeat calendar sure to bring some humour and colour to your entire year. It's a particularly exciting find because it is filled with photos taken just for the calendar. And of course, come next year, the images are ready for framing.  Printed on strong, high quality paper, they stand strong on their own as well as in the calendar. And come on, who doesn't want a print of a little T-Rex vacuuming in a suburban living room?
On the calendar page, you can see a preview of the months to come. I think this would be well at home in many settings – a child's room, a kitchen, and office.
While you're there, you should check out my entire Zazzle store. There's surely something for everybody.
We should always remember that we are never too old to smile, play with tiny toys, and reach our imagination to heights we never knew possible.